2017. Removing barriers. Creating Opportunities.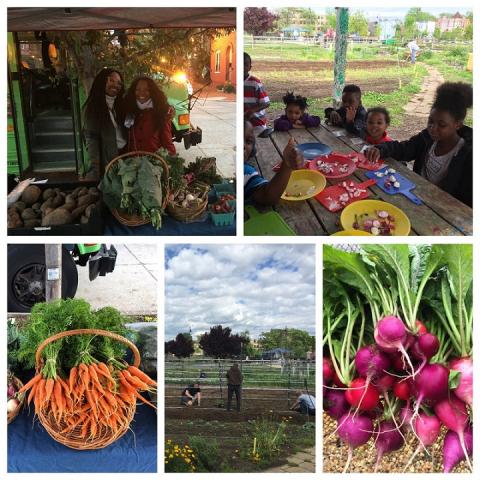 This year, we honored our commitment to growing food and cultivating community by taking key steps to remove barriers and create opportunities, all in support of strengthening our community and furthering our mission. Below are highlights of two initiatives we are extra proud of.
Removing Barriers
This year we forged a new partnership with Arcadia Food's Mobile Market, launching the joint Arcadia and Common Good City Farm's Market at LeDroit Park. Through this partnership, we were able to hand-out and accept Produce Plus vouchers (a DC Department of Health farmer's market nutrition incentive program), giving our income-qualifying neighbors $10 extra dollars to spend on produce at the market! We knew this partnership would increase our community's access to our farm-fresh veggies, and we are proud to report that we more than doubled the volume of our produce distributed to our income-qualifying neighbors.
Creating Opportunities
We believe in creating opportunities for greatness by cultivating talented individuals. This year, we were proud to provide leadership and development opportunities for two returning Youth Employment Program participants, Terri and Dionna. Both young ladies began with Common Good City Farm as high school students with no experience working outside, let alone on a farm. Yet their positive attitudes and willingness to work hard and expand their horizons inspired us to create opportunities for them to grow with the organization. This year, Terri and Dionna joined our team for the whole season as Farm Stand Assistants, helping us serve Farm Stand and CSA customers as well as distributing Produce Plus vouchers. In addition, they rejoined our Summer Youth Program, but this time as Team Leaders, to help shape our next cohort of informed young people.
In 2017 we also:
• Grew and distributed over 6,000 pounds of produce to our community
• Connected over 500 youth and 500 adults with the food system through on-farm programming
• Developed a Commitment to Equity statement and engaged all staff in equity training
• Hosted free monthly community events on the farm, connected our neighbors to their food as well as to each other
• Worked really hard and had a lot of fun! Thank you to all of our program participants, funders, partners, and neighbors for a wonderful 2017!