Out like a lamb?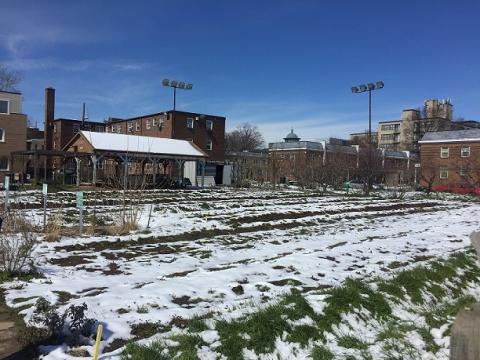 As you may have noticed, our seasons haven't been like "normal" lately. We knew it for sure when we broke an all-time heat record in mid-February, but even the tried and true "in like a lion and out like a lamb" didn't really apply in March. The late snows are hard for the farm—we have tons of beautiful little seedlings ready to get planted in the ground!
Here's what's happening on the farm this time of the year:
- Bed preparation – we're getting the garden beds in order with the help of City Farmers. The cover crops need to be removed and reincorporated into the soil in preparation for planting.
- Starting seedlings – last week we added cucumbers and onions to the plants that are germinating. Our cauliflower plants are just waiting for the chance of snow to pass, and then…
- Planting! – Cauliflower will be the first seedlings to get planted here shortly, and carrots will get direct sown shortly after. It's an exciting time to be on the farm—you can almost feel it bursting with potential just waiting for the weather to warm up.
And most importantly, we are CELEBRATING! This year is our 10th year of operation, so we're going to celebrate all season long. We hope you'll join us on April 28th for two great events.
First from 10am-1pm we'll have food, farm tours, kids activities, and a seedling sale. Next, for those who prefer to wake up later, we're having a celebratory happy hour at ANXO Cidery from 3-5pm. Those who make a donation to Common Good City Farm will get a discount, and 10% of our sales will go to the farm. Please come out and join us!
You can meet the staff and board members, and share your hopes and aspirations for this farm season. Lastly, in our tenth year will you consider donating $10/month? We rely on donations like yours to continue our mission of creating a vibrant, informed, and well-nourished community through urban farming. Individual donations are especially important because they aren't tied to a particular program, so we can use the donated funds to pay the bills and keep the lights on. You can make a monthly or one-time donation to the farm using the links below or on the left side of this page.