Join us for our Farm Stand Preview Party on Wed, May 9!
Join us for our Farm Stand Preview Party
Wed, May 9 3 - 6 pm 3rd and Elm St NW next to the Park at LeDroit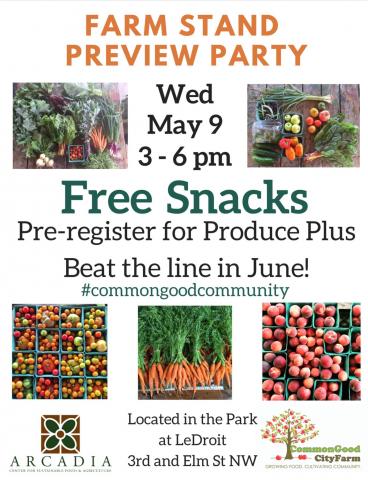 We will be previewing another Farm Stand season with Free Snacks Kids Activities Music Produce Plus Pre-registration The first Farm Stand will be the following Wednesday, May 16 from 3 - 7 pm.
Pre-register for Produce Plus If you are interested in pre-registering for Produce Plus DC this Wed, May 9 from 3 -6 pm, please bring
- a DC photo ID
AND one of the following
- EBT card
- SSI Disability letter
- Grocery Plus card
- WIC booklet
- Medicaid or Medicare QMB card
In order to receive Produce Plus checks, ALL customers must register for the 2018 season - even if you received Produce Plus checks last year. Produce Plus distribution will start in June.